THE BEST (AND WORST) DESTINATION WEDDING TRENDS FROM 2018: 
Let's start with the good stuff! Two wedding trends that are currently up and coming in 2018:
1. Sleeved Wedding Dresses
.
More and more brides are opting for sleeved wedding dresses. According to wedding experts at The Knot.com, "From caps and bells to barely there, sleeved silhouettes will be big this year." We expect to see the sleeved look gain popularity over the next few years.
Check out some of the hottest wedding dress styles on display at the National Wedding Show in London:
2. Interactive Food Stations.
Interactive food stations can help to liven up your wedding celebration. The experts at the Bridal Guide name this as one of the top wedding trends of 2018. In regards to interactive food stations they quoted chef Matt Antoun, founder of Modern Art Catering in Los Angeles as saying, "Having guests move around gives them a chance to mingle, have fun and try something new."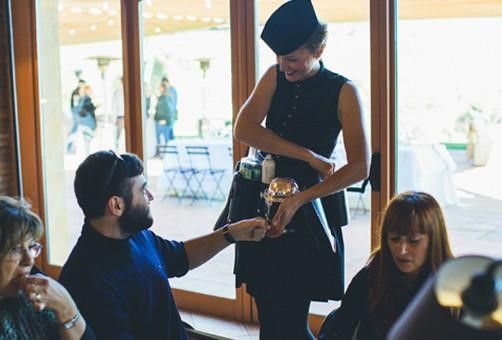 Now on to the not so desirable wedding trends of 2018…
Experts at Vogue tackled identifying outdated wedding trends of 2018 and found that two of the major wedding trends that are fading out are larger bridal parties and naked wedding cakes.

1. Large Bridal Parties

"Aren't you surrounded by your friends and family anyway? Instead of a huge bridal party, give your loved ones meaningful roles in the ceremony that are more participatory and reflective of your relationships with those people."—Yifat Oren of Oren Co.
2. Naked Cakes

"What started out as a rustic wedding trend is now popping up everywhere. But naked cakes, in my opinion, are far too casual and unfinished for most wedding receptions. The lack of frosting also causes the cake to dry out more quickly, leaving guests with a less-than-ideal dessert at the end of an otherwise great night."—Laurie Arons of Laurie Arons Special Events
What we recommend:
Keep your bridal party as limited as possible and try to include close friends and family in your wedding ceremony in different ways. For example, give them small roles or allow them to make a toast at the reception, this way no one feels left out and you are not crowded at the altar.
(Read some expert advice on how to tell close friends they are not in your wedding party here)
If your are looking for a less traditional style of cake but the naked cake is not exactly your flavor, we recommend spicing up the decor of the cake. You can easily add pieces of fresh fruit or different styles of icing. Having icing on a cake can help keep it from drying out and there are many different ways you can play with the decor of your cake to make it feel more original for your wedding day. You can always drizzle the icing on top to give it more of a naked feel as well.