WHAT YOU NEED TO KNOW ABOUT THROWING AN OUTDOOR WEDDING
Outdoor weddings have an indescribable feeling about them. A romantic, beautiful botanical garden, or the beauty of an ocean shore.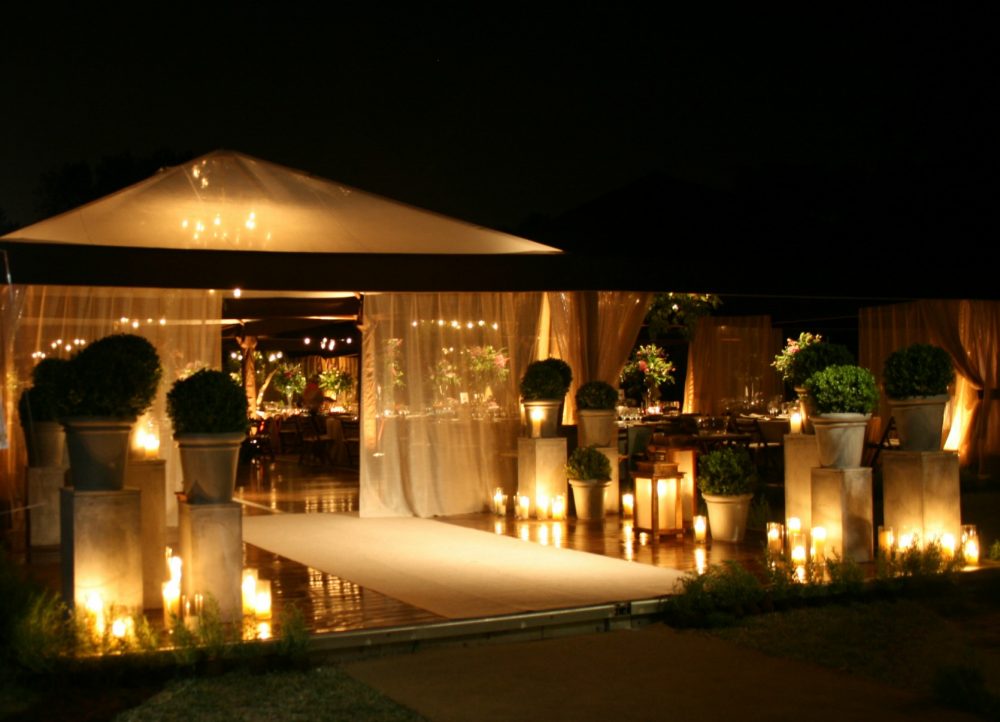 Even though these sites are quite gorgeous, there's quite some planning to do when it comes to an outdoor wedding.
Here are some tips to pull off a flawless outdoor wedding.
1. Rent a tent
You can pitch a tent about anywhere. It can be your favorite park, an ocean shore, or outside a beautiful estate.
Tents come in different shapes, materials, and sizes whether you are going casual or formal. You may get in contact with a rental company to choose what style will fit your plans.
Be sure to choose a tent which is suitable for your surface, be it sand, grass, and pavement and so on. Be sure to weatherproof it too.
2. Light it up
An outdoor wedding has a huge advantage in that you can light it up with as many elegant strands of light as you see fit. You may have twinkling lights, paper lanterns or beautiful chandeliers. Walkways leading to the bathrooms should be well lit for easy access. You may set up tea lights or mason jars hanging from branches of trees and also light up the paths to give a beautiful look.
Another essential aspect you may not have thought of is a backup generator. You should have the space checked out by an electrician before you light up the tent, to ensure everything is safe. A backup generator will save you from unforeseen embarrassment as no one will want a total blackout during their wedding reception.
3. Transform the venue into a charming spot
Be it a small backyard, a rustic spot in the woods or a massive grass lawn; you ought to make it look comfortable and inviting with lounge furniture and a whole lot of pillows. If plush chairs and couches can fit in, you may look to set up the dining area with four-person tables for a more intimate.
Your décor should also be beautifully breathtaking. You should line fabrics from the ceiling right down to the floor to give the tent a soft look. Colored linens and other beautiful designs will give it a cozy feel.
4. Get the music right
Let your scenery guide your music choices for your outdoor wedding. You need to ensure your DJ or band has the right music for the event. They should tell you the things which they'll have to set up at the venue. Also, bear in mind that outdoor music late into the night isn't allowed in some city ordinances. You carry out ample research and make sure you get everything on point.
5. Set the dance floor
An outdoor wedding wouldn't be complete without a dance floor. If you are doing your wedding on a grass lawn, then beware of holes in the grass or blades of grass growing. Mow the lawn and make sure it's flat. If it has holes, you should set your dance floor on a flat surface may be by placing a carpet on the lawn.
RELATED READING:
HOW TO MAKE A WEDDING SEATING CHART WITHOUT STRESSING OUT
…
FREE EBOOK:
CLICK  here to get our free ebook: "The Ultimate Guide to Getting Married in Spain"