SPECIAL GIFTS FOR YOUR EXTRA SPECIAL WEDDING ATTENDANTS
Everyone has an important role to play on your special occasion. It's not simply a case of tying the knot. There are of course all those important people that have been paramount in reaching this significant milestone. 
From your old Ma and Pa to siblings, bridesmaids and your motley crew, can you feel the love in the room? So grooms, listen up. It's not all about your blushing bride – oh no. It may be time to get out that pen and quill or start composing your thank you cards in advance. 
Each and every one of your wedding party has brought you tears of joy and happiness through the years. Whether playing forts with your long term friends or those parental shoulders of support, there are endless ways to show your appreciation. 
Right down to the little ones! You may have a ring bearer, flower girl or young bridesmaid who also needs consideration and recognition. If you have brothers or sisters with children then why not have them play a part in the big day?
Captivate your audience with cutesy usher or bridesmaids outfits to make your crowd melt and say ooh or aah. Stuck for inspiration? Turn your extra special wedding guests into VIPs and consult our list of special gifts below.

1. Glass Vase
Cupid's Arrow Personalized Glass Vase,
Memorablegifts.com
So you've bagged the perfect woman. Now grab the perfect gift with a one of a kind custom glass vase. 
Strike the right love chord with your better half and ensure she falls in love with this treasured keepsake. Made from clear glass, this classic wedding gift is taken to new heights. 
Suitable for all occasions, make an impression each time you place those posies inside. Great for gifting, put your names or wedding date inside the lovestruck heart for a mesmerizing bridal present. 
Now who said all you need is love. 

2. Personalized Whiskey Decanter with Cigar Gift Box
Whiskey Decanter with Cigar Cutter, Case and Flask,
GroomsmenGiftSource.com
A classy groomsmen gift, kick back with your bros in grandiose style with this custom whiskey and cigar gift set. Booze and smoking go hand in hand and what a way to celebrate your big occasion. 
Presented in a smart wooden box, it features an elegant decanter, cigar cutter, cigar holder and whiskey flask. Ideal for those men who like to stash their stogies, it also doubles up as a humidor storing up to 2 cigars. 
Raise a glass and enjoy a fat Cuban with your loyal crew and show them how much your value their camaraderieship.
This all encompassing best men gift is a cut above the rest. 

3. Ladies Knit Wrap
Jasmine Knit Wrap with Lace Trim,
Shopbop.com
Whether it's before or after your nuptials, your bridesmaids ought to feel special too. Make your bridal party shine like stars with this silky fine lace wrap, ideal for slumber parties and more. 
We love the super soft material, deliciously delicate lace and floral print that sets off this robe. From getting ready before the big day to relaxing on a pre night out with the girls, this is a really nice touch for your bridesmaids or maid of honor.
Look as glamorous as Sophia Loren anytime thanks to this uber chic wedding gift.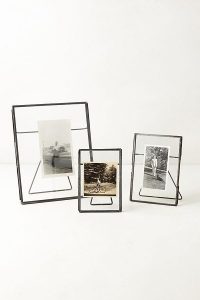 4. Iron and Glass Photo Frame
Make a moment last a lifetime with this fabulous set of photo frames. Moms and Mother of the Brides will yelp with delight thanks to this sophisticated picture selection. 
Place your wedding snaps in and Bob's your uncle! Fill up your frames with heartfelt memories of your joyous occasion for the ultimate treasured keepsake. 
Yes, we may all have iPhones and smart home devices to upload all our unique pics. But we just love a bit of old school. Plus, they will fit into any interior making a stylish designer gift. 

5. Shaving Elements Bundle Gift Set
Sandalwood Elements Bundle with Shaving Brush,
Theartofshaving.com
For your old man or Father in Law, there's no better feeling than the closeness of a smooth shave. As clean as a freshly mown backyard, consider a grooming kit elevating their shaving to new levels. 
We love this manly all in one gift set including pre shaving oil as well as shaving cream, aftershave balm and a shaving brush. Perfect the art of a stubble free visage and glide their way to experiencing their best shave yet. 
Compact, practical and extremely durable, this high quality shaving gift set offers all the elements to ensure your dads get their technique down to a tee. No more razor burn, no more nicks and definitely no more nasty hair fails. 
Handcrafted from top grade ingredients, let them enjoy a shave as close as it can get time after time. 
Guest author: Emma Miller, Founder of Vow To Be Chic. She's working with the official partners mentioned above, and she may receive a small comission from the links in the article.