PLANNING A DESTINATION WEDDING IN SITGES
This is Ian and Emily's destination wedding success story. These two American lovebirds met while studying abroad in Barcelona, Spain, during college. "We fell for each other with the Mediterranean Sea as a backdrop, Barcelona's historical alleyways at our feet and the Spanish sun shining on our faces," Emily remembers. "In such beautiful settings, how could we not fall madly in love?"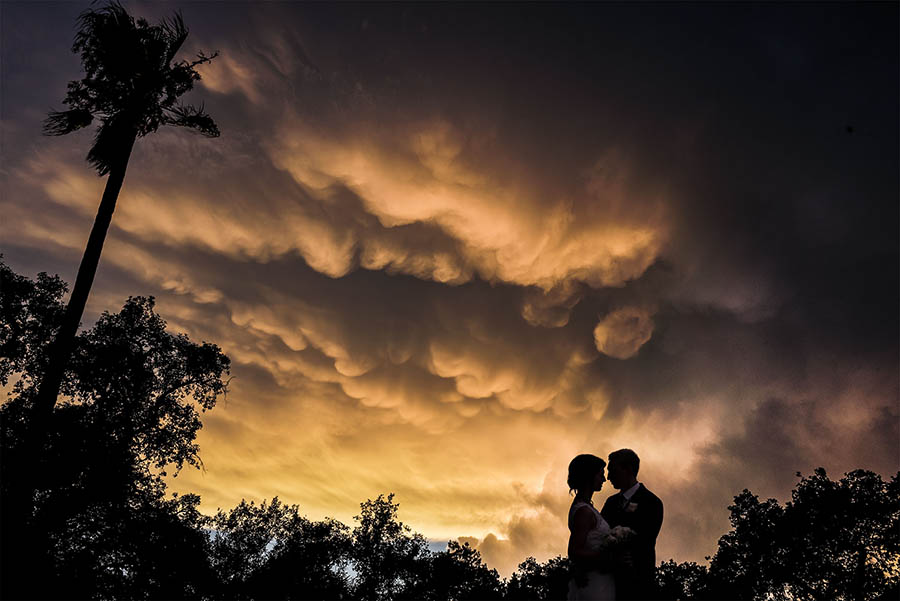 A romantic, Spanish-themed engagement
The summer after graduation, Ian proposed to Emily on the rooftop of their local Spanish restaurant over tapas and Rioja wine. Her response was, of course, a loud and emotional, "¡Sí!" And, before dessert made it to the table, the newly engaged couple had already decided to have a destination wedding in Spain, where their love story first began.
Choosing the perfect destination wedding
Emily was quickly able to envision herself marrying somewhere on the Mediterranean coast, near their beloved Barcelona. They knew the first step was choosing a specific city as the destination for their wedding. While they loved Barcelona, they wanted a more intimate and countryside feel for their special day.
The seaside town of Sitges — located just southwest of Barcelona — was an easy choice for them. The couple had spent a long, relaxing weekend in the town while studying abroad, and had fond memories of its palm-tree-lined streets, sandy beaches and whitewashed houses.
Setting a reasonable budget
Next, they set a budget. They worked out how much they were willing to spend on the venue, catering, drinks, DJ, accommodations, photographer, flowers, attire (wedding gown and suit), flights and honeymoon. They even left some wiggle room for unexpected, last-minute expenses.
Since Emily and Ian both speak a bit of Spanish and are familiar with the country's culture, cuisine and customs, they decided to plan their wedding on their own. That way, they'd be able to skip the expense of hiring a wedding planner.
An attempt at wedding planning
When Emily started searching for destination wedding venues online, she quickly became overwhelmed. She spent hours sending emails, making overseas phone calls and researching the legalities of getting married in Spain. It didn't take long for her to realize that her level of Spanish wasn't going to be enough to talk to and negotiate with vendors. Meanwhile, her attempts to reach the local civil registry to get information about a marriage license wasn't working out either. She had called numerous times and couldn't get on the phone with the right department.
With the time difference, language barriers and complex Spanish bureaucratic system working against her, Emily was feeling frustrated, upset and exhausted. All these setbacks were putting a lot of pressure on the couple, and time was ticking away. Almost two months had gone by since they're engagement, and they still hadn't found a venue. So, the couple decided that the only way to plan on their own would be to travel to Spain and do everything in person.
But, between flights and accommodations, the extra cost of traveling to Spain to plan the wedding was just too high. The couple started to wonder if they'd be able to afford to get married abroad until…
The bride saves the day!
While researching the legalities of marrying in Spain, Emily stumbled upon Spain4Weddings wedding packages website. With some wonderful options in Sitges, she decided to reach out to our CEO, José Levy, for more information.
At first, the couple was apprehensive about working with a wedding planning company in Spain. They didn't want to lose control over their big day, especially since they were planning on doing it all by themselves. Plus, it would be hard to entrust their dreams to someone they had never met in person before. They wanted to make sure every last detail was perfect, and didn't want to see someone else in control of all the details.
José met with the couple for a live meeting on Skype to talk about their wedding and to answer their questions. All of their concerns disappeared when they spoke with him. Even though the meeting was over video, they immediately hit it off and were able to clearly explain and have their ideas understood. (This was something Emily was struggling with when emailing venues and vendors on her own.)
Free Online Wedding Planning Service
Ian and Emily were thrilled to find out that couples that book a wedding package through Spain4Weddings.com get free online wedding planning services. The best part was that this service came at no extra expense to their budget. Not only were they going to save on stress and a pre-wedding trip to Spain, but they were also going to do it with no extra hit to their budget.
José explained that he would be in charge of talking to and negotiating with the venue and other wedding vendors, and that part of his job was to make sure they got the best deal possible. That meant that Emily could say goodbye to all her wedding planning stress and leave the things that she had been struggling with up to the wedding planner.
The planner encouraged the couple to communicate openly and often with him. The more details and information the couple shared with him, the better equipped he would be to fulfill all their expectations and dreams. Emily sent us the color palette they had chosen, floral arrangements she liked and a playlist with all their favorite songs. Every time she had a new idea, she was free to email it to us. We also calmed their nerves by making it clear that we wouldn't make any decisions without getting their approval first. They would have full control over every last detail of their big day, but Spain4Weddings team would be doing all the leg work.
The Authentic Catalan Villa Package
With our team's assistance, Ian and Emily chose the Authentic Catalan Villa package for their wedding day. This gorgeous, rustic venue features 15 bedrooms, 12 bathrooms and a large swimming pool. The package includes everything from the celebrant and photographer to catering and an open bar. Ian and Emily liked the idea of a small guest list, and decided to cut it down even further so all their guests could stay at the villa with them.
With the help of the celebrant, Emily no longer had to worry about the legalities of the wedding ceremony. The celebrant informed them that it would be best to have a blessing, or symbolic, ceremony in Spain. He explained that this means that the ceremony would appear to be official (guests never have to know it isn't the "real thing"), when they would actually legally get married before or afterwards in their home country. Emily and Ian decided to go to city hall to legally tie the knot just a few days before departing for Spain.
Since the package also includes an on-site wedding planner to run the big day, the couple wouldn't have to worry about solving any unexpected, last-minute hiccups. The package seemed too good to be true. What else could they ask for?
Focusing on what matters most
Emily was also thrilled to discover that Spain4Weddings' online planning services also included booking and managing accommodations, airport transportation and tourism activities for all her guests. With all the big items being taken care of by the wedding package and planner, Emily was able to focus her time on the details that mattered most to her. She adjusted her guest list to fit her dream venue, made homemade invitations, created a gorgeous destination wedding website and even had time to help her less tech-savvy family members book their flights.
And, thanks to all the vendor discounts they got through Spain4Weddings, the happy couple decided to spend their leftover budget on an upgraded honeymoon suite the week after their wedding.
Stuffing their bags and packing the dress
Besides helping them plan, we also gave the couple loads of tips and tricks for packing. To prevent disappointments and upsets, we recommended the couple travel with the groom's suit and the bride's gown in hand. We pointed out that many airlines have special policies for transporting gowns and suits. Some make you buy an extra seat for your gown, while others let you carry it on for free. Emily was thankful for this tip, as their preferred airline's policy was to purchase a seat for her gown, and she wouldn't have thought to look into the details otherwise.
We also advised they carry all their important, must-have items in their carry-on bags. Although unlikely, checked bags sometimes get lost. (And not having your wedding shoes or veil due to a lost bag would be a near tragedy!)
Our team even put them in touch with a trusted drycleaner to steam or press the suit and gown upon arrival to Barcelona.
The big day
When all was said and done, Ian and Emily had a wonderful wedding that went off without a hitch. The couple had bid farewell to their long list of planning woes and happily handed them off to a wedding professional. Their planner took care of the leg work, all while keeping the couple informed and letting them make all their own decisions. There were no unexpected, last minute fees or surprises.
Soon after the wedding, José, our CEO, got a lovely email from the couple: "I don't know how we ever could have planned our destination wedding without Spain4Weddings. The Sitges destination wedding package and free online planning service was exactly what we needed. Thank you very much!"
RELATED READING:
SPAIN IS THE WEDDING DESTINATION CHOICE OF BRIDES AROUND THE WORLD
FREE EBOOK:
CLICK  here to get our free ebook: "The Ultimate Guide to Getting Married in Spain"