HOW TO PLAN YOUR LUXURY DESTINATION WEDDING IN BARCELONA WITH SPAIN4WEDDINGS
Take a deep breath in right now while grinning. Let's discuss "weddings"! Have you already made the decision to have a destination wedding? Good decision! You can coordinate your wedding and honeymoon so that your guests can treat it like a vacation. What a fantastic pairing! We just heard your heartbeats shooting up the sky!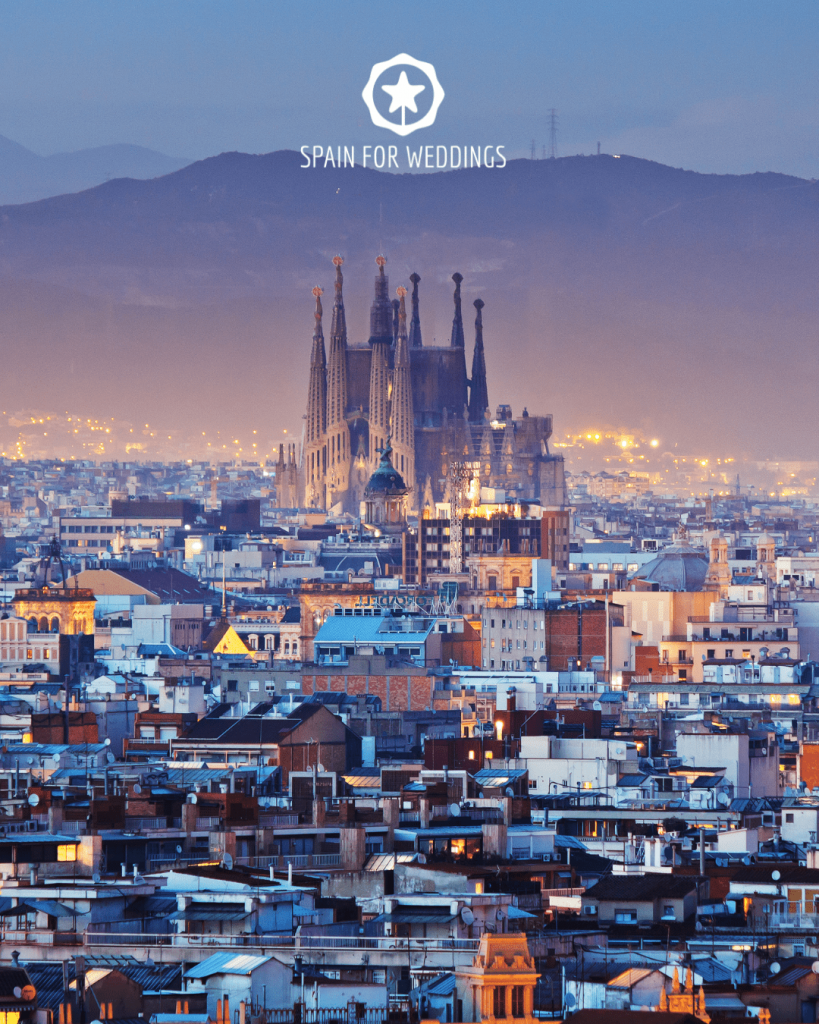 Let us introduce to you BARCELONA as the ideal venue for your destination wedding in Europe. (Of course we would attest to Barcelona, our team loves this city and everything that it has to offer!)
From dramatic beach weddings, beautiful mountain views, opulent vacation homes, old castles, and trendy city roofs, this place has got it all. Imagine your fantasy wedding taking place in a setting of natural beauty, loved ones, and charming rusticity. LOVE is in the air when the sun shines and the birds sing! Nothing can beat the beauty when it comes to luxurious weddings in Spain.
How to plan your luxury destination wedding in Barcelona with Spain4weddings
Let's take a look through how one must plan a luxury detention wedding in Barcelona shall we?
Unbeatable Setting:
Barcelona no longer fits many of the moulds that beach cities are supposed to. Instead, Barcelona (also known as Ciudad Condal) benefits from a favourable marine location, with energising areas full of wonderful flavours mixed with inner-city tourist attractions. Barcelona accommodates all of its guests as a result, providing a wide range of experiences for all walks of life.
Exquisite food:
Spanish food is among the best in the world. Due to the various ecosystems that make up the nation, it is distinguished by its variety and robust flavours. Due to its mountains and coastline, two natural monuments that deliver the best foods like fresh seafood, organic ingredients, and delicious meats, Barcelona's cuisine is even more distinctive. The cuisine of Barcelona experiments with a wide range of tastes, textures, and feelings.
Amazing weather in Barcelona :
Take it from us, Barcelona offers some of the most gorgeous weather in all of Europe if you're searching for a destination wedding with lots of sunshine. If your wedding is taking place by the sea, you can count on a pleasant sea breeze to keep things cool. As one of the ideal times to say your vows and take pictures of your outdoor ceremony, the sunsets here are also magnificent. Marry the love of your life as the sky turns tangerine!
Wedding activities:
With all that Barcelona has to offer in terms of leisure, nightlife, and activities, you and your guests will have plenty to do outside of the wedding festivities. Take a hot air balloon flight over the Costa Brava countryside for some of the area's most magnificent vistas, or go kayaking or snorkelling off the coast to take in the water. Watch a game at Camp Nou, the biggest football stadium in Europe, if you're in town during the football season!
Book the date:
Let's plan a date! Most couples and guests make plans to explore the city and its surroundings a few days before and after the wedding day, go on a trip throughout Spain or Europe, or simply spend a week lounging in the sweltering sun and sipping cocktails! Why not schedule the wedding for a weekday instead? Every day is a weekend when you're on vacation, they say. As locals rarely get married during the week and wedding venues (and vendors) may offer cheaper rates, you can most definitely save some money this way. More money to spend on wine, yes?
So, should we start making plans? Check out our destination wedding services in Spain, we provide inclusive and customised packages to meet the needs of each client.
Conclusion
Barcelona has been well-known for many years. The city has become one of the most sought-after tourism destinations in the world due to its geographic location, culture, climate, and worldwide influence. Barcelona has been decked up to host various unique events, capitalising on its many benefits and positive social impact. Barcelona has been a popular destination for weddings because of its luxury and top-notch standards and services.
Consider a city with a glamorous vibe, a beach, and, of course, delicious food. We're waiting on the other side, Spain For Weddings has its tribe ready with nothing but love. Let's plan your wedding today, shall we?