GASPER & ANJA: MARRIAGE PROPOSAL IN CANARY ISLANDS
Will you marry me?
This little sentence can change your life for better but are you prepared for marriage proposal?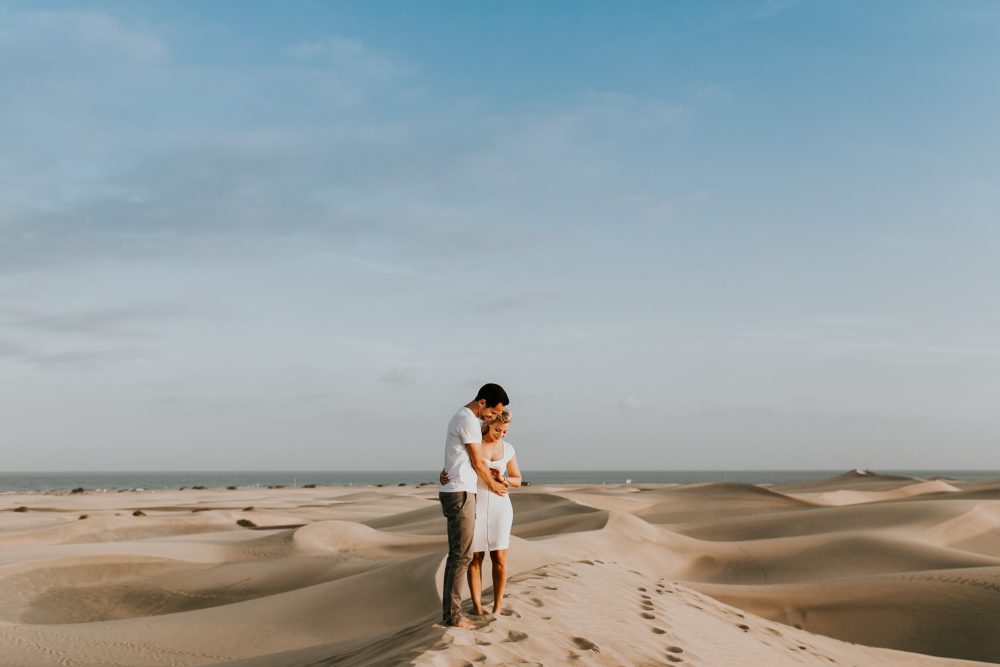 OUR JOURNEY
Me and my girlfriend were planning trip to Gran Canaria and suddendly something ran on my mind that this would be the perfect place for engagement. I wanted to do this on a speacial way but didn't know how to start because I'm only a tourist and don't know the right people to help me.
Then, I decided that i will find someone who is professional and ask them for help. I ran on a page Spain4weddings.com and immediatly contact them.
And this is how our journey began. I started to planning everything with the most kindly person I have ever met, Dorelis. She helped me with music, place for engagement, she sent me pictures and gave me advices about everything I need. I also wanted professional photographer and she sent me the website from Fred Bolge. I was really impressed about his work. And there we were, I had the perfect team with big hearts and professional attituted and I knew that nothing is possible to go wrong.
PROPOSAL DAY [08/09/2019]
Finally the day had come and i was really nervous the whole day. Again, my beautiful team calm me down and give me strength that everything will be ok. I really felt that I'm working with someone who cares about me and didn't treat me like that I'm only their client who will pay for their service.
To shorten the story: Our engagement day was beautiful and perfect on each and every way. I am really grateful for Dorelis, Fred and Spain 4 Weedings for all help that they gave me. They helped me fulfill my girlfriend's dream about perfect engagement.
Me and my girlfriend will always remember that day, not only because everything was perfect but because we also find new friends through the best company Spain 4 Weedings.
If anybody wants some help with your engagement, marriage or professional photography you no longer need to look furthure. Here they are, perfect team, with great hearts and full of experience.
They will make your day like a fairytale
Gasper and Anja
RELATED READING:
MARRIAGE PROPOSALS IN CANARY ISLANDS
FREE EBOOK:
CLICK  here to get our free ebook: "The Ultimate Guide to Getting Married in Spain"