CAN GUESTS BRING A CHANGE OF SHOES TO A LUXURY WEDDING IN CATALONIA?
This question has been floating on the internet as to whether carrying shoes to a luxury wedding venue in Catalonia is considered tacky.
Let's unravel the answers to the same, shall we?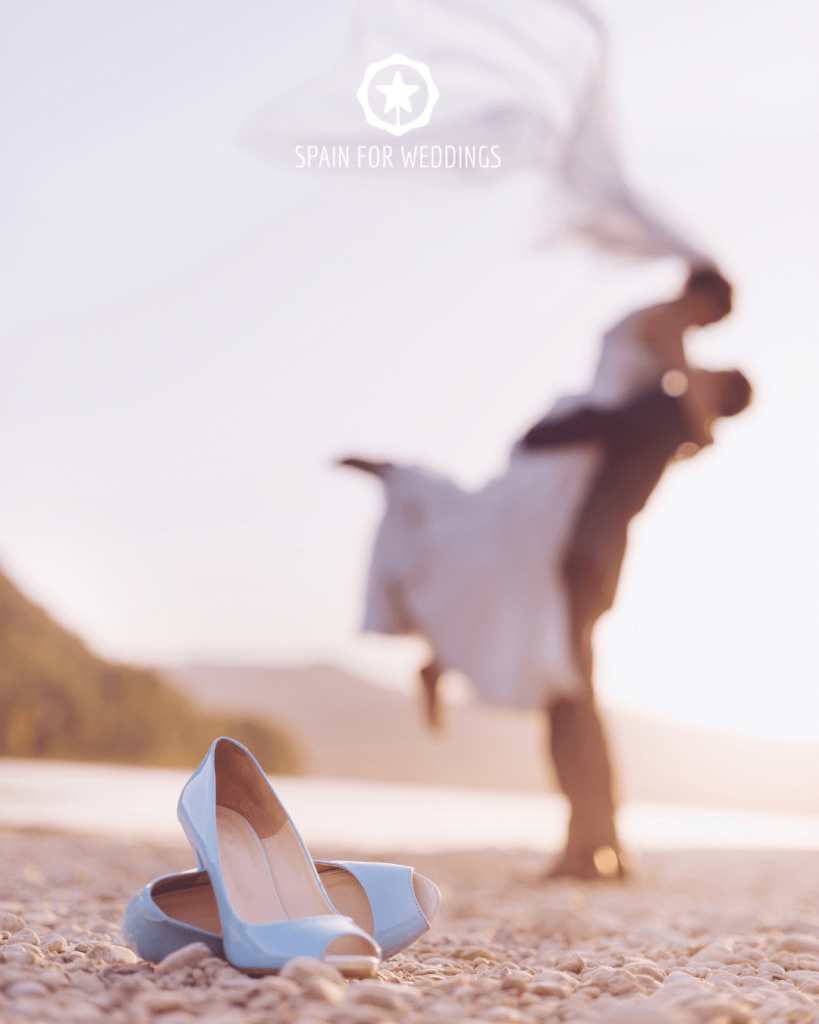 Can Guests Bring a Change of Shoes to a Luxury Wedding in Catalonia?
Finding the ideal jumpsuit or dress to wear to a wedding is only part of getting ready; you also need to pick the ideal pair of shoes to complete your guest look. When attending an ideal destination wedding in Spain, the guests shoes should be eye-catching but comfortable. (you want to be able to move about on the dance floor! )
It may be quite difficult to decide what to wear to a wedding, especially when dress standards become more and more ambiguous. Whether a wedding invitation specifies formal, cocktail, festive, or casual wear, guests should keep in mind a few style guidelines to avoid wardrobe faux pas.
What footwear to wear for an outdoorsy wedding?
If the luxurious destination wedding in Spain will be outside, think about switching out your shoes for a pair of adorable flats. There's no need to spend the entire night stumbling around on grass in uncomfortable stiletto heels or to leave early due to uncomfortable footwear. No doubt, your stilettos are sky-high, and they look great with your cocktail dress, but they will hurt your feet when you dance. Think about bringing a pair of dressier sandals or ballet flats for the reception as an alternative.
What footwear to wear for an evening wedding reception?
Many visitors ponder what they should bring to the evening wedding ceremony and celebration. The answer is simple, be comfortable to be "present" at the wedding. It's safe to assume that these fashionable shoe styles can seriously hurt your feet—especially after a long night of mixing and partying at a wedding reception—despite the fact that they may go wonderfully with your little black dress. In light of this, it makes perfect sense for wedding guests at the destination wedding in Spain to bring a spare pair of shoes to the festivities so they may dance the night away without getting sore or hurt.
However, if you're genuinely unsure how to  go about this, don't worry; we've got you covered:
If necessary, bring comfortable shoes at the destination wedding in Spain:
 Simply place your comfy shoes in a tote that also coordinates with your attire, but avoid sneakers at all costs.
Alternate your shoes privately at the destination wedding in Spain
 It is acceptable to bring a pair of extra shoes to a wedding, but it is improper to change into them in the midst of the dance floor or during dinner, keep it private.
Make Certain That Your Backup Shoes Are Formal at the destination wedding in Spain
Make sure that your footwear complements the dress code while choosing your primary pair of wedding guest shoes or a backup set to bring along just in case.
Decide on comfort in the very beginning at the destination wedding in Spain
The idea is to wear comfy shoes from the beginning so that you don't have to change them during the event.
Conclusion
In Spanish society and culture, weddings are extremely important occasions. There will be plenty of fun, food, and fashion. Don't worry too much about the "rules," even though they may seem to be numerous. The fact that you're there to support the couple getting married is what matters most. You have made a very special gesture just by traveling to their wedding, we're  sure of it.
If you're attending a wedding in Spain for the first time, there are probably many other "firsts" taking place right now as well. Don't be scared to try something new and be open to this lovely country. If you're looking for help when it comes to planning the most luxurious wedding in Spain, then Spain For Weddings is the right one for you!