BEGINNER'S GUIDE TO A DESTINATION WEDDING PHOTOSHOOT
[ctt template="6″ link="4YWUO" via="no" ]"Photography is a way of feeling, of touching, of loving. What you have caught on film is captured forever… It remembers little things, long after you have forgotten everything." — Aaron Siskind[/ctt]
Your wedding photographer is one of the most important aspects of your wedding celebration. The photographer is responsible for capturing the memories from one of the best days of your life.  If you are planning on hiring a destination wedding photographer I highly recommend doing a separate photoshoot at your destination apart from your wedding day. Not only is this a great way to make the most out of your destination (not to mention getting to wear your wedding dress again) but it offers a more relaxed setting with a photographer that will ensure you get all of the shots that you want. Here are a few helpful tips on how to get started.
Summary
If you are planning on doing a destination wedding photoshoot you need to keep in mind the price and style you are looking for, the time of year and weather at your destination, and the locations at your destination that you want to include in your photo session.
1. Price and Style
Before you start browsing possible destination wedding photographers it is important to set a budget. Below is a breakdown of the average costs of wedding photographers provided by Weddingwire.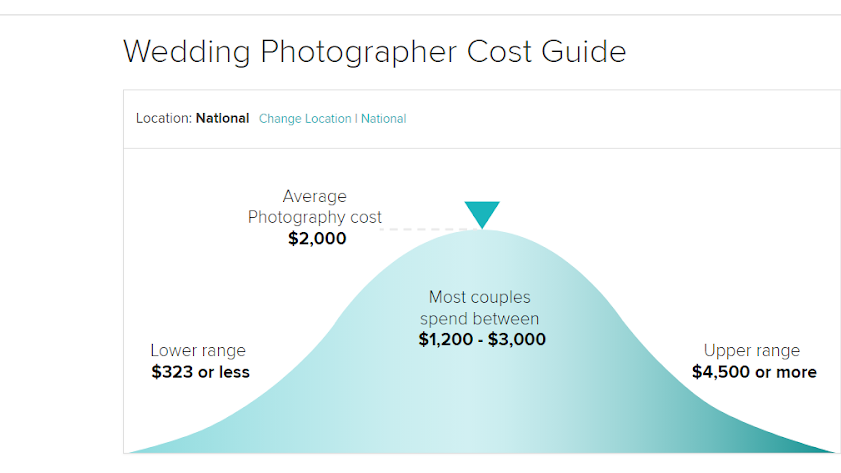 These costs are estimated for stay at home weddings so you can expect the destination wedding photoshoots to be a bit more expensive.
Once you have decided on a budget you should compile a portfolio with examples of the style of wedding photography you are looking for.
(Pinterest is a great way to explore different styles of wedding photography.)
Once you have a budget and your style portfolio you can begin browsing destination wedding photographers.
2. The Weather: Always have a Plan B
It is easy to get swept away by the gorgeous beach wedding photography you see all over Pinterest. While outdoor photoshoots are beautiful, one thing that you should keep in mind when planning your destination wedding photoshoot is the possibility of bad weather.
It helps to research the weather at your destination and prepare for the worst possible scenario. Pick a few indoor spots for the photoshoot or have a backup list of places you could go in case it starts to rain or snow. If you are planning on having multiple outfits bring clothes that go with the weather. For example, a long dress and sweater would not be the best choice for a hot summer day in Spain. You want to look comfortable in your photos and that means planning ahead and bringing the appropriate clothing options.
3. Make A List of Places To See
Look up the sites and beaches or natural areas near your destination and decide which ones you fancy most. A list of five to eight different locations is a good place to start. After you have outlined your top destinations send the list to your photographer for feedback.
Sending your wedding photographer the list in advance can help him or her prepare for the shoot. They are most likely very knowledgeable about the area you are getting married in and may even have a few suggestions of their own to add.