BEGINNER'S GUIDE TO CUTTING DOWN THE COST OF A DESTINATION WEDDING
The costs of weddings have been steadily increasing over the last decade. Below is a look of the national average of the cost of weddings provided by a 2016 study conducted by
the Knot.com
.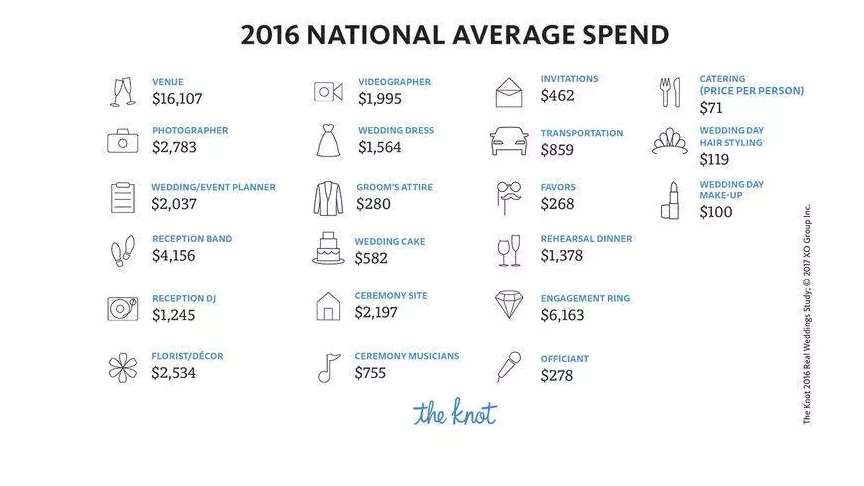 This study also conveyed that the average cost of weddings has been steadily rising over the last decade.
While the cost of weddings is rising, so are the amount of destination weddings. The study found that in 2016 one out of every four weddings in the United States was a destination wedding.
So how are more and more couples affording to say "I do" at a destination as opposed to at home?
They are changing the way they host their destination weddings.
After 30 years in the destination wedding industry we know a few things about hosting destination weddings. Below are two key ideas to help you cut down the cost of a destination wedding.
Summary
Look For Destination Wedding Packages
1. Hire Local Vendors
One way to dramatically cut down the price of your wedding abroad is to hire local vendors. Not only are these vendors more familiar with the local market but they will most likely offer a cheaper price than the wedding vendors from your home country.
Experts at Nerdwallet specialize in saving money and one of their top recommendations is to hire local wedding vendors to save money on a destination wedding. In their guide to saving money on destination weddings they stress, " If you need to use vendors beyond those provided by the venue, hire nearby professionals. Bringing in vendors from your hometown can be expensive, as you'd likely be expected to foot the bill for their travel and lodging."
2. Look For Destination Wedding Packages
There are a wide variety of destination wedding packages available in countries all over the world. A little known fact is that most wedding packages are not directed at weddings with huge price tags. Many of the packages are made especially for couples looking to save money or stick to their budget when planning a destination wedding. Not only does booking a package help save money but it can alleviate a lot of the wedding planning stress as well. The company you booked will be responsible for handling the vendor coordination and many times the vendor payments as well.
If you are looking to cut down on costs at your destination wedding look into booking a wedding package to cover the major aspects of the wedding such as the venue and the wedding food. Then research local wedding vendors to finish planning the details of the ceremony.
Below is an example of a popular destination wedding package in Spain.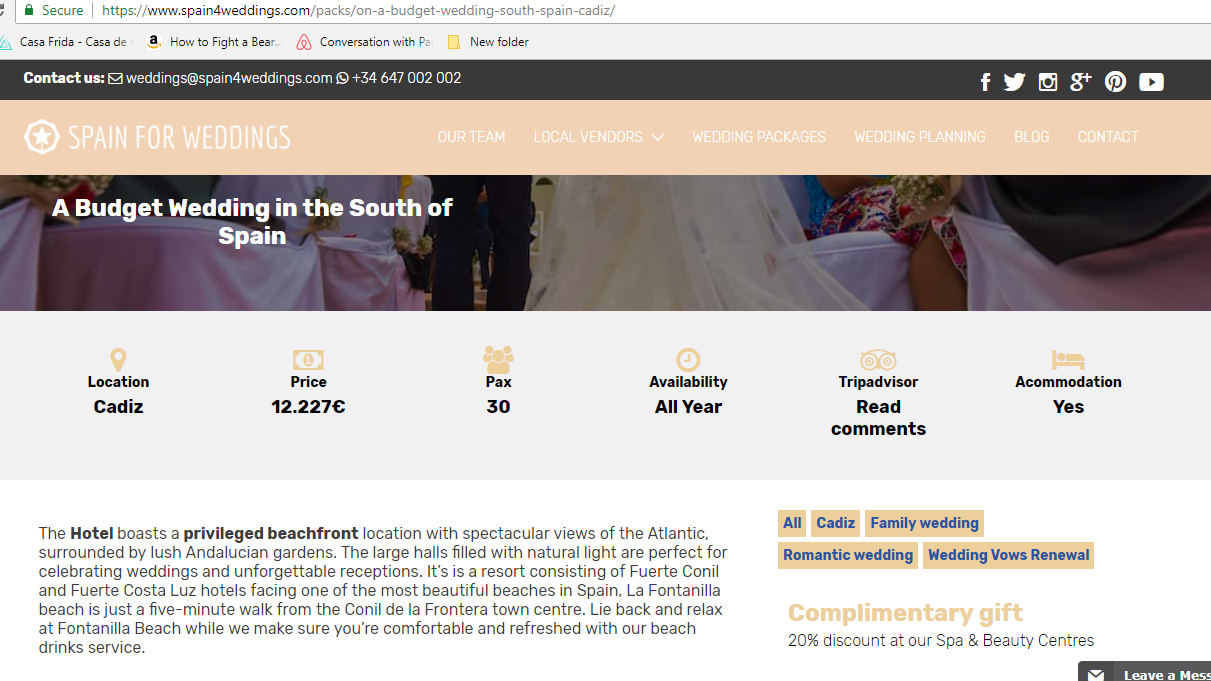 (Always to make sure and ask about special promotions or offers the company is running such as the 20% discount pictured above.)