A THREE-DAY DESTINATION WEDDING IN IBIZA
This is the destination wedding success story of Chloe and Harvey. This travel-loving, Australian couple met in an extremely romantic way: while backpacking through Europe!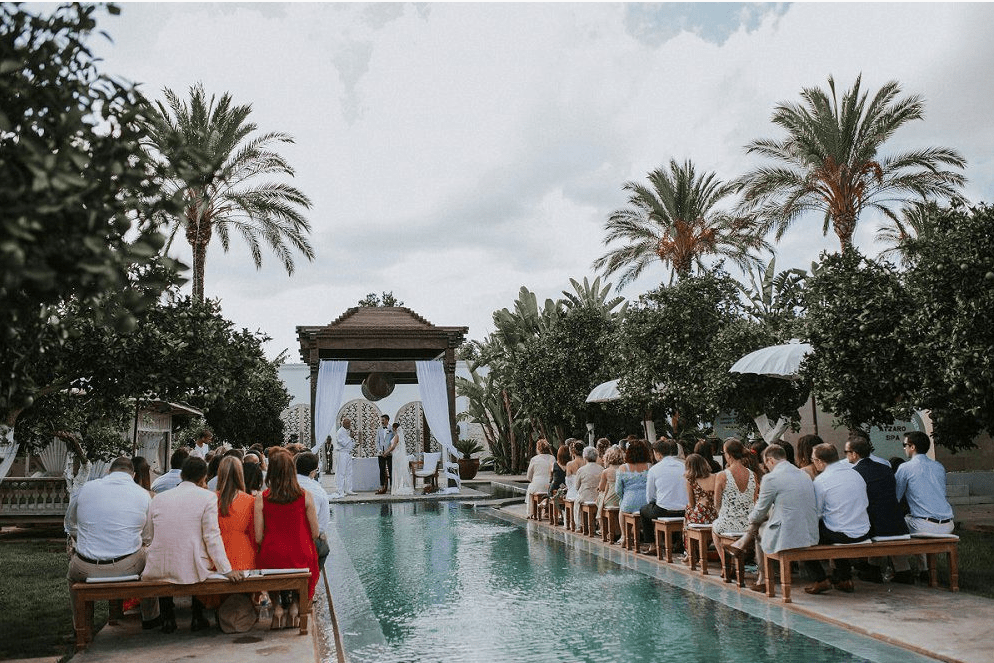 After finishing university, Chloe decided to take a gap year and travel solo through Europe. On the second day of her trip, jet-lagged Chloe went to a pub near her hostel in Barcelona for a pint. There, she spotted Harvey, who was sitting alone.
Chloe approached Harvey and they got to chatting. They immediately hit it off and spent the entire night talking about their upcoming adventures. Harvey felt comfortable with Chloe, and he quickly decided to adapt his plans to hers. One thing led to another, and they ended up traveling together the entire year. At the end of their love-filled trip, Chloe proposed to Harvey and he said yes!
Long-distance engagement
The morning after they got engaged, Harvey and Chloe said their teary goodbyes and boarded their flights back to Australia. Their farewell was extremely difficult because they are from separate sides of the country: Harvey is from Brisbane and Chloe is from Perth.
At the airport, during their goodbye embrace, Harvey suggested they get married at one of their favorite destinations during their one-year trip: Ibiza. Chloe excitedly said yes!
When Harvey arrived home, he immediately shared the news with his family. They were thrilled for him! Unfortunately, Chloe's family didn't take the news so well. They were upset that she got engaged to someone they'd never met before and that they were getting married abroad.
The bride closes the gap
Under the stress of distance from Harvey and juggling her family's disappointment, Chloe decided she needed some extra help with planning. After a quick Google search, Chloe found the Spain4Weddings website and saw that we provide full-service wedding planning in Spain. After a video conference call with our CEO, José Levy, she decided to hire Spain4Weddings.
Our planners explained that we would be in charge of helping her plan every single detail of the wedding, but that we would never make any decisions without her approval. Chloe was ecstatic to discover that all planning would be done online, which meant they wouldn't have to travel to Spain before the big day if they weren't able to. Thanks to our online work method, we were able to effectively close the distance gap between Chloe, Harvey and Spain.
Destination wedding planning
One of our first recommendations to the couple was that they host a three-day wedding in Ibiza. Destination weddings with planned activities before and after take entertaining stress off the couple and allow everyone to enjoy the destination more. Also, since the bride and groom's families and friends had never met, having planned activities would give everyone time to get to know each other. The couple loved this idea and ran with it.
Chloe and Harvey chose to get married at a breathtaking private wedding venue on the beach in Ibiza. We provided the couple with a curated list of vendors and service providers we've worked with in the past, and the couple chose what best fit their needs and dreams. We took care of coordinating with vendors, booking flights for guests, reserving rooms at the hotel nearby and scheduling all activities. The couple was especially impressed by the discounts we were able to get from our vendors.
Planning a surprise for the bride
A month before the wedding, Harvey called us and said he was planning a surprise for Chloe. He wanted to give a speech and play a slideshow of photos from their year-long trip to Europe. This is when Harvey told us he went to Europe for a year to take a break from his high school sweetheart, Joslin. His girlfriend was ready to get married, but Harvey wasn't so sure. He admitted that he decided to travel with Chloe because spending time with another woman might help clear his head and make a decision about Joslin.
Three months into their trip, Chloe confessed that she was falling for Harvey. This was when Harvey explained his relationship crisis with Joslin and admitted he also had feelings for Chloe. Chloe was so angry she left to spend a weekend away from Harvey. Upon Chloe's departure, Harvey immediately realized what he wanted and called Joslin to break up with her. He then called Chloe and his family back home to share the news.
Although Chloe had left Harvey in an angry fury, after just a day away she realized even more how much she loved him. When Chloe got the breakup news, she was thrilled and traveled back to talk things over in person. That's when they officially declared their love for one another and decided to move forward as a couple.
We encouraged Harvey to put the photos in chronological order and to tell funny and romantic stories from their trips. We also recommended that this surprise take place during cocktail hour, immediately after the wedding ceremony. Emotions would still be high from the ceremony, so the surprise would have an even bigger effect.
Early arrival
The bride and groom arrived to Ibiza a few days before the wedding. The couple use their alone time to finalize the seating chart, create a bouquet for Chloe, visit the venue, and get the dress and tux steamed, among other tasks. Harvey told us he especially liked having a few extra days to meet and spend time with the on-site wedding coordinator and planner.
While looking at calla lilies for Chloe's bouquet with one of Spain4Wedding's planners, Chloe called Harvey's name and tossed one of the white flowers into the air. Harvey's eyes teared up, the couple embraced, and our planner watched, wondering about the symbology behind the flower. That's when Harvey shared their engagement story with us.
Harvey explained that after one year of traveling together, they ended their trip where they began: in Barcelona. As they were standing with their arms around each other overlooking views of the city from Parc Güell, it started to snow — it's extremely rare to see snow in Barcelona. Harvey's heart skipped a beat. The snow seemed like a sign.
Harvey told us he wanted to make the most of that moment and said, "Surrounded by so much beauty, if someone asked me to marry them right now, I would say yes…" Chloe smiled and looked up at him. They kissed under the snow and Chloe said, "Okay, so will you marry me then?"
The three-day weekend wedding
Per our suggestion, all Chloe and Harvey's guests arrived on Thursday evening, even though there weren't any activities planned until Friday. That way, if any flights were delayed or canceled, they wouldn't ruin the weekend or cause guests to miss some of the events.
Friday: welcome day
The wedding weekend began on Friday afternoon with a welcome activity, a guided walking tour of Ibiza Town. The tour included stops at the city's top sites, including its 14th-century cathedral. Chloe's family is full of history buffs, and they especially loved learning about the city's history.
The walking tour ended at a beach near town, where everyone enjoyed a delicious BBQ dinner and drinks at a spectacular luxury chiringuito (Spanish for beach bar) with an amazing live DJ. After dinner, we ran fun ice-breaking games for the families and guests to get to know each other. The night was filled with laughter and guests mingled freely, regardless if they were there for the bride or the groom.
Saturday: the wedding day
The destination wedding went off without a hitch and lasted long into the night — just like any other fiesta in Ibiza would. They were married with a ceremony on the beach under the warm sun, accompanied by a live guitar trio. On their way out, guests threw an array of lively-colored petals and cheered in celebration.
The cocktail hour was the highlight of the wedding reception. Harvey gave a tear-jerking speech about their year traveling together, telling funny stories about the places they'd been and the memories they'd created. As he spoke, a screen behind him ran photos of their adventure abroad. It ended with a photo taken right after they got engaged in Park Güell, under the snow. Harvey cried during his speech, as did Chloe and many of their guests. Chloe's mom later admitted that this moment was what made her realize she had made a mistake being apprehensive about her daughter marrying Harvey.
Dinner featured local cuisine catered by one of the most popular chefs on the entire island. The cake was in the shape of two backpacks that looked like the ones they used on their travels. On top of that, the tasteful flowers, entertaining DJ, talented barmen and accommodating on-site staff made for a day to remember. The music played on until dawn, with the couple surrounded by their friends who had travelled from Australia and all over Europe to celebrate with them.
Sunday: the day after
The day after the wedding started with a fun daytime activity. A large, luxurious boat took the couple and their guests to the island of Formentera, which is known for its crystal-clear waters. Complete with sunbathing on the deck, hangover snacks and water activities, guests were able to reminisce about the wedding while relaxing in paradise. We booked lunch at a restaurant on the island which included a private area for massages. Guests who preferred to skip the massage spent the afternoon taking a siesta (Spanish for nap) on the nearby beach.
After the lovely day excursion through paradise, guests had time to go back to their rooms and get ready for a farewell dinner. The evening featured tapas and specialty cocktails while watching a big screen that played all the best photos from the wedding weekend. Laughter and tears filled the room as these photos, taken by an award-winning photographer, shined on the screen. The event wrapped up with a thrilling live Spanish flamenco show that gave the crowd goosebumps.
Chloe, Harvey and their families and guests had an unforgettable destination wedding weekend in Ibiza. After their honeymoon, we received an email from Chloe saying, "I couldn't have planned such a great event on my own. Thanks for making the destination wedding planning process so incredibly easy!"
RELATED READING:
WE ARE WHAT WE FEEL. WE ARE WEDDINGS.
FREE EBOOK:
CLICK  here to get our free ebook: "The Ultimate Guide to Getting Married in Spain"