3 BEAUTIFUL CASTLE WEDDING VENUES IN SPAIN
Spain is the ideal destination wedding location for most couples. This is because of its rich culture and history as well as its heritage to the ancient Roman Empire. Your wedding is one of the most significant moments in your life.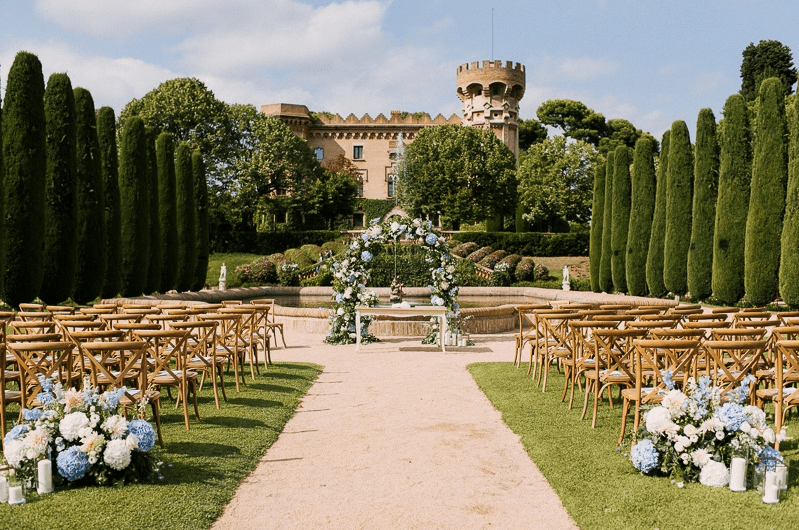 Some couples aim to make it extra special by picking a unique venue such as a castle that signifies royalty.  Are you one of such couples? Look no further! In this write up we will identify 3 beautiful castle locations in Spain to help ease your search. Read on!
1. Beautiful Castle Located in Barcelona
Barcelona is home to one of Spain's ideal castle wedding venue. This exquisite structure boasts of being the ideal choice for the perfect wedding. Host to several big lounges, the castle is ideal for all types of indoor wedding feasts and receptions. Couples looking to celebrate their civil weddings can also do so on the blissful and romantic surroundings of the castle. With a capacity of approximately 300 people, this castle is also a perfect wedding venue for couples looking to have a large and lush marriage feast. 
The castle's cuisine is inspired by traditional Mediterranean gastronomy. As such, you and your guests can relax and enjoy exquisite cookery. Despite the absence of accommodation for guests, the castle has a beautiful and well-furnished suite available for the newlywed.
2.Flamboyant Castle Located Close to Madrid
At the heart of a protected forest close to Madrid lies this flamboyant castle wedding venue. Originally designed to be a fortress-palace, the castle, at different times belonged to Spanish monarchs and aristocrats. The picturesque landscape and majestic halls speak volumes of its historical allure. If you are aiming for an indelible and majestic wedding, then this venue is ideal. 
With its beautiful and spacious new terrace, the castle comfortably accommodates up to 1000 guests! From the terrace, you have a panoramic view of the farm and the forest, where you can also spot freely grazing roe deer and imperial eagles soaring high up in the sky.  
The castle has a team of very experienced and professional chefs that are specialized in wedding buffets. Thus, you can leave your guests feeling ecstatic at a wedding dinner with gourmet dishes prepared to your taste.
3.Exquisite Castle Located Close to Barcelona
This castle is situated a few kilometers from Barcelona Airport. This raree-show castle breathes life into the mountainous region of Catalonia. The castle can accommodate up to 200 guests for an indoor wedding and an even greater number for an outdoor wedding given its 200m2 garden space. Devices such as projectors, cameras, screens, Wi-Fi, drones, etc., are going to be at your disposal. 
Furthermore, the castle has suites for rent and offers its kitchen to external catering services at a canon price. The castle's team offers supplementary services such as child care, waiters, and furniture rental.
The above-mentioned castles are full of history in every corner making them ideal locations for very special celebrations. Hence, celebrating the wedding of your dreams in any of these venues is sure going to be the ultimate way to begin a lifelong marital union.